We're very proud of Ian for being nominated for 3 One Voice Awards. It's the UK's largest Voiceover Awards, with 3600 entries received this year. Ian has had nods in the Best Radio Commercial category, Male Voiceover Artist of the Year and Best Outtake. 
He has form in the best outtake category, famously struggling to deliver lines for the following in previous years … 
The Cock Inn
Cwm Farm Charcuterie
Sandy Balls Holiday Park
And this year he's nominated once more, for "The Incontinence Supermarket" and their on hold marketing's request for customers to "Please hold …. "
It's the awards ceremony next Saturday and he needs a new dinner jacket. So we decided to have a Bank Holiday trip to Newcastle, and take the Littlest Voiceover with us to help pick out his new glad rags. 
Not a good plan. The 5 year old INSISTED that a pink linen suit (with shorts combo) was the right look for this auspicious occasion. We promptly abandoned the suit shopping with Ian stating  "Ibizan mid life crisis is not the look I'm going for". 
So we tried again when Amber was at school, obviously in a more flamboyant mood this time he surprisingly announces en route … "I'm not closed off to the idea of crushed velvet"
I drilled down into this, and discovered it's actually UN-crushed velvet he's open to, which still seems a tall order for our local shopping centre, 5 mins down the road. 
But as serendipity would have it, the first shop we walk into has a rainbow selection of velvet dinner jackets, in bottle green, midnight blue, milk tray man black, scarlet red and party purple. Unfortunately they only had his size in the scarlet red, so that was reluctantly tried on to check the fit. 
The jacket hunt now looks like a fox hunt.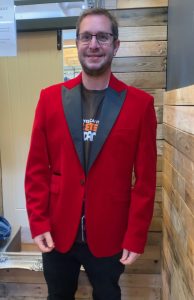 It's a touch roomy, and "Master of foxhounds" even less the desired look for the occasion.
He tried on his preferred midnight blue in the smaller size, it fit … but only just. Unbuttoned was fine, buttoned was borderline ok, pre 3 course meal. They offered to order it in the next size up, but couldn't guarantee it would arrive in time. So a slightly small, mighnight blue, velvet, dinner jacket is now hanging in the wardrobe awaiting awards night.   
Amber and I will be home in our pyjamas next Saturday, while Ian slips into his new jacket, and finds out if he'll be bringing home any silverware. 
We'll be cheering him on in all his nominated categories, Male Voiceover Artist of the Year, Best Radio Commercial, and, of course, Best Outtake, and whilst he may struggle to urge those incontinence sufferers to "please hold", we'll have everything crossed that on the night he can hold it together, hold his head high and hold it in !