Amber's been a Child Voiceover for nearly a year now, and this is what we've learnt … 
1. GET YOUR DUCKS IN ORDER 
First of all, you have to get a license from the council before your child can do voiceovers, paid or unpaid. Our initial application was refused on the basis that we were requesting a 6 month blanket licence and the council had historically only issued licenses on a per job basis to child performers. But when we went back to the council and explained the fast paced nature of the voice over world, they were happy to listen and approved the blanket 6 month period. 
We keep a work diary for Amber, which details any time worked, which is a condition of the licence being granted. 
2. EXPECT SOME DUCKING AND DIVING
Amber fell at school the day of her first Voiceover job and we had to collect her from school with a bloody mouth, a fat lip, a wonky tooth and a lisp. You couldn't make it up !
So the voice session was hastily swapped for an emergency trip to the dentist instead.
She was so excited to do the job she tried when she got back from the dentist, but 
her speech just wasn't right. So we explained the circumstances to the client and they were happy to wait a few days. 
These things are going to happen when you're dealing with children and you've got to be flexible.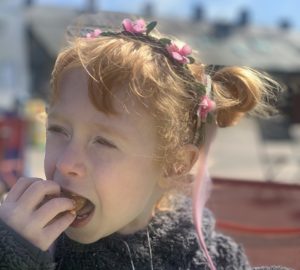 A fall might stop the production of a voice-over …but not the consumption of an apple-turnover.
3. MAKE SURE IT'S ALL WATER OFF A DUCK'S BACK
Always spend time getting them ready and comfortable for the session. We warm up before doing silly voices and pulling faces to loosen up the face and voice, above all else make it fun. And of course lots of water to get the best possible articulation and clarity from your child's voice.
4. DUCK FOR COVER
A 5 year old knows best. (Or at least they think they do !)
"I know what I'm doing Daddy" 
"Stop telling me what to do" … 
… the unscripted words ringing out of Amber's mouth in this week's session.
As her confidence grows, and now that she can read the script herself without Daddy's help she wants to be in charge ! Above all else the session needs to be fun, for your child to be interested and for the client to get a good delivery. Let them take some responsibility and play about with it. If it's not going in the right direction, praise them for what they've done and try suggesting a different way. If it's not happening don't force it. Try again the next day, at a different time. Before school can be a great time to catch them, fresh and maybe a bit more open to direction.
5. AND HOPEFULLY THEY'LL TAKE TO IT LIKE A DUCK TO WATER… 
Amber is really confident and relaxed in the studio because she's hung out in there with her Dad, and watched him work as a VoiceOver since she was a baby. So to be in front of the mic feels natural to her. She's recorded made up stories, played about with mic settings and voice effects and had fun in the studio long before she became a voice over. 
When she was 4 she was actively saying she wanted to be a Voiceover like Daddy, and so we took the lead from her. She'll only do it as long as she is interested and enjoys it. 
We tell her what the jobs pay and let her buy treats with her own money, she can't wait to get in the studio and get to it when she hears about the money on the table (it's usually shoes she wants, so she doesn't take after her Dad 100% 😂).
And here's Amber's latest venture into the voice over world … Quack Quack 🦆