We are proud to work with Northumbria University, producing their monthly podcast series, Why Small Business Matters. 
We work directly with Newcastle Business School's Help to Grow Management delivery team, to deliver a podcast that is entertaining, engaging and inspiring to the local business community. 
Over the last year we've featured a wide range of guests on the podcast series, starting off with Oli Barrett – the most connected man in Britiain and the man who introduced speed networking to the UK, and this week's instalment features Dame Tanni Grey Thompson, talking about safeguarding in sport, and the parallels between sport and business.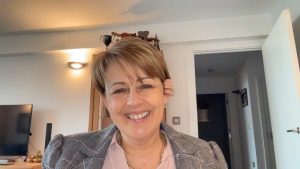 We enjoy a great relationship with the team at Newcastle Business School, they are pro active and fresh thinkers, and we love working with them to bring those ideas to life. 
Recently one of the ideas that was floated was to celebrate a year of the podcast series, by filming it as a real time episode in front of a live audience, available in vision – as well as in the usual audio format. We worked together to make it happen. The iconic Baltic Centre for Contemporary Art was secured as the location, with the Tyne Bridge as the backdrop for the esteemed panel of local business leaders and entrepreneurs. 
We brought in expert videographers Exstream Media, who we already partner with on British Speedway Network, where Ian provides the commentary. A North East start-up themselves, they had the specialist equipment required and the expert skills to allow us to produce a slick TV production. We used multiple cameras to give us a selection of angles, all vision mixed live, meaning the whole show was able to be produced in real time in 1 take with no edits.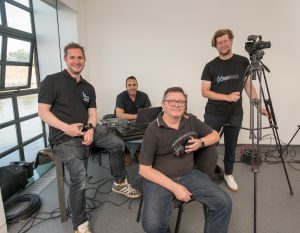 The panel put together by the team at Northumbria University's Newcastle Business School were fantastic; Nick Downing Transformation Director at NPH Healthcare Group, Phil Robinson-Atley Operations Manager at Armstrong Direct, Kelly Maxwell founder of Kelly's Heroes Private Tuition, Elaine Stroud CEO of the Entrepreneurs Forum and Reshma Begum North East of England Development Management for the Federation of Small Business. All expertly chaired by Caroline Theobald, CBE, Director of North East Initiative on Business Ethics (NIBE).
What followed was an hour of considered, thought provoking and inspiring content, showcasing the brilliant business community we have here in the North East, highlighting the Help To Grow Management programme provided by Northumbria University and the transformative impact it has had on the panel.
A close relationship with the client and thorough planning meant it all came together perfectly and delivered us a very happy client. Dr Matt Sutherland, Associate Professor in Marketing at the Faculty of Business and Law, Northumbria University gave us this feedback after the event … 
"Working with Ian is amazing, he has transformed the way we communicate with our customers and broader stakeholders. Over the last 12 months, we have worked closely with Ian and his team to establish, record and launch the 'Why Small Business Matters' podcast series. Without Ian's help, none of this would have been possible.
More recently we recorded and filmed a live podcast event at the Baltic in Gateshead. Here, we drew upon Ian's network and delivered a fantastic event that provided a novel and interactive platform for discussing issues important to our regions businesses. We look forward to working with Ian in the future and building upon the successes of this year"
You can watch this special edition podcast here
Listen to our podcast showreel here
And to get in touch, go to our contact page.